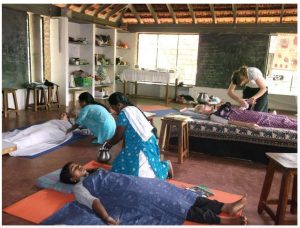 LEC offers open health and nutrition workshops for students together with anyone in Auroville interested in these workshops. In the past, a caregiver workshop was conducted to give skills of assisting and care giving for the sick. Some students who attended the workshop have taken it up as part-time work.
Our current health and nutrition open workshops are facilitated by Ulrike Urvasi, an expert Shiatsu practitioner and an organizer of Birth Awake in Auroville. These workshops focus on sharing information about conception, fertility, menstruation and hormone cycle, pregnancy and birth, a little about the first days and months after birth, practicing body consciousness, laughing and loving together.
Please check back for upcoming sessions.