Mission
Life Education Centre (LEC) provides a learning environment for the empowerment of women from the villages around Auroville. Since 1991 Life Education Centre (LEC) has helped many young women develop their true potential and unique creativity. The young women are offered an educational space as well as the tools and support for their continued growth even after their time in LEC.
Philosophy
LEC believes that a true social change can happen when there is a change in the consciousness of individuals. This belief forms the basis of all activities and projects in LEC.
History
The Very Beginning
In the villages around Auroville, young children lacking education was a common problem. LEC was established in 1991 with its main goal to create a centre for education and social change. LEC began working with all children, including from the 'untouchable' Dalit caste, mainly focusing on improving their education and training them for future careers within Auroville.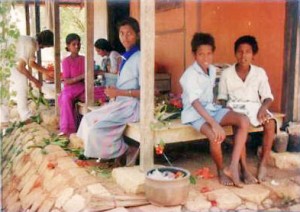 The school was initially open to young boys and girls who wanted to learn. It began under a big tree in Kottakarai Farm of Auroville where the first 10-12 students came. They were very introverted, suffering from a lack of physical coordination and energy. The initial topics were: meeting with their fears, their ways of perception, ways of speaking, and relations. This was done by physical games and dancing. Other activities like pottery, cloth dyeing, typewriting, farming, gardening, and carpentry were slowly introduced. Classes in mechanics related fields and tailoring were also added on the program. LEC was also supplied tailoring machines, financed by the Indian government, along with material for making dresses or trousers for each student. A gas-stove was also bought and one full meal a day was provided for each student.
Challenges
Attendance was challenging in the beginning for several reasons. LEC established basic rules of behaviour as well as an attendance record that used thumb impressions. Many students, especially the boys, would skip school and enjoy other activities, since many were not used to mandatory attendance. Other students needed to be home to work or take care of family members. The most common reason for students missing school was because their families could not afford the costs. Finding good teachers was very difficult, as the right motivation for this kind of job was lacking. The language barrier between Tamil and English was often a problem as well. The students were mostly Dalits (caste less), and had no formal knowledge of Tamil. LEC encouraged the students every day to say 10 words in Tamil and 10 words in English. A system of stipends was also introduced via a government program. This helped reduce the costs greatly and enable attendance of students from poor families. Gradually, more and more young women came to LEC and the programs continued to grow. When it first opened, LEC was sharing its location with other working units and the center often faced challenges in sharing facilities. This situation continued for the first 10 years of LEC until June 2001, when a plot of land near Isaiambalam, where it is presently located, became available. The center was finally able to take shape and grow.
LEC Today
LEC has adapted its programs over the years to suit the needs of the women coming to the Center. Social changes mainly drive the needs of families, especially women. A positive change that has happened in the society in the last ten years is that girls are encouraged to continue their education and most of them today are pursuing college education. The challenge in this situation is that they are first generation college aspirants who don't have the support and guidance from their parents. LEC has introduced a new program called YEN KALVI (MY Education) to provide career guidance and capacity building to these young women. Women are also increasingly eager to earn an income to support their families. The tailoring skills are now more focused towards imparting skills of quality, finishing and perfection. LEC is also starting to take small orders to train them in quality production and to bring abilities to the Center to pay these women.
In September 2016, the thirty-year old office building saw a completely renovated new space for office on the ground floor and a care taker apartment on the first floor. This became possible through a Government of India grant to enable the construction work from Feb 2016 to Sep 2016. The new building provides the much needed space for large gatherings when several women from villages participate in seminars and the students participating in YEN KALVI program.
General Background information
Women's rights, roles, and stereotypes