LEC believes that true social change can happen when there is a change in the consciousness of individuals. This belief forms the basis of all activities and projects in LEC.
The young women in LEC are offered an environment with opportunities to discover themselves. Emphasis is placed on fostering life skills including:
Thinking for themselves
Sharing with others
Reflecting
Widening their perspectives by hearing a diverse array of views
Examining personal attitudes on societal and cultural norms
Developing abilities to be self-confident and self-reliant
Developing capacities for decision making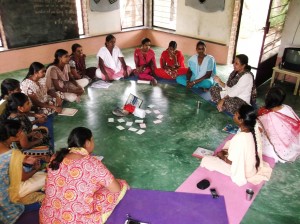 Students of LEC participate in the following activities that enhance their education and personal growth:
Vocational training such as tailoring, crochet, typing, and computers
Therapeutic activities including individual and group counseling, discussions
English language classes
Body awareness activities
Lectures by experts in various fields from Auroville and surrounding villages
Meditative activities like chanting
Group art activities to awaken the aesthetic
Cooking with local vegetables
Periodic visits to Matrimandir
Visits to exhibitions in Auroville related to their area of work
Here at LEC, young women are given a new chance. We offer them an educational space as well as the tools and support for them to continue growing, even after their time in the Center. Some young women who have gone out to work in services and units of Auroville like to spend their days off in LEC. They have built connections during their time at the Center that continue after they leave. In their own words, "LEC is like family".